Address:
Poughkeepsie
,
NY
,
12601
41° 38' 38.454" N, 73° 55' 20.046" W
Business/organization type:
What our organization offers:
Ages for which our activities are most appropriate:
From party walls with fun shapes to steep boulder problems & pumpy lead routes, there's something fun and challenging for everyone! Open seven days a week, the Gravity Vault Poughkeepsie prides itself on being a safe, clean, well-lit facility. Our friendly, knowledgeable and energetic staff members will help you experience indoor climbing at its highest during our staff led programs or open climb times for all ages, ability levels and experience. Call to check us out today!
WORLD CLASS INDOOR CLIMBING COMES TO THE HUDSON VALLEY!
We offer programs for all ages and ability levels!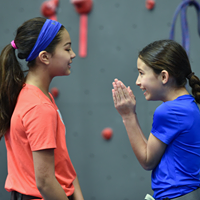 STAFF BELAYED CLIMBING & INTRODUCTIONS TO ROCK CLIMING
New to Climbing? Not sure how to get started? Have a group of beginners?
Call us today to reserve your instructor. Advance reservations highly recommended!
BIRTHDAY PARTIES
Celebrate with us!
Climbing is a great way to celebrate your birthday! The Gravity Vault climbing parties give kids a fun and exciting day they will never forget!  We offer two different party packages to meet everyone's needs.
KIDS PROGRAMS
Check out our year-round options!
Camp Rocks, Gravity Vault's Rock Climbing Summer Camp. Give your kids an experience they'll never forget this summer!
6-week Kids' Class sessions. Check out the calendar on our website for upcoming class dates.  Ages 5 and up.
Junior Climbing Teams for kids aged 7-19. Open tryouts every Tuesday and Thursday at 7:30pm (or call us if you need to set up a different time). Come meet our awesome coaches!
Kids' Classes, Top Rope Belay Classes, Yoga Classes, Youth Climbing Teams
Organization learning resources